Blog
Posted on
If you've recently purchased a motorcycle, congratulations! Motorcycles are a fun and cost efficient form of transportation. Before you hit the pavement to test out your new set of wheels, there are a few motorcycle riding basics worth looking into.
RC Components is proud to offer some of the best custom motorcycle wheels and accessories on the market today. If you're interested in upgrading your motorcycle wheels, or you need a new exhaust header, browse our online store today!
The Basics of Riding a Motorcycle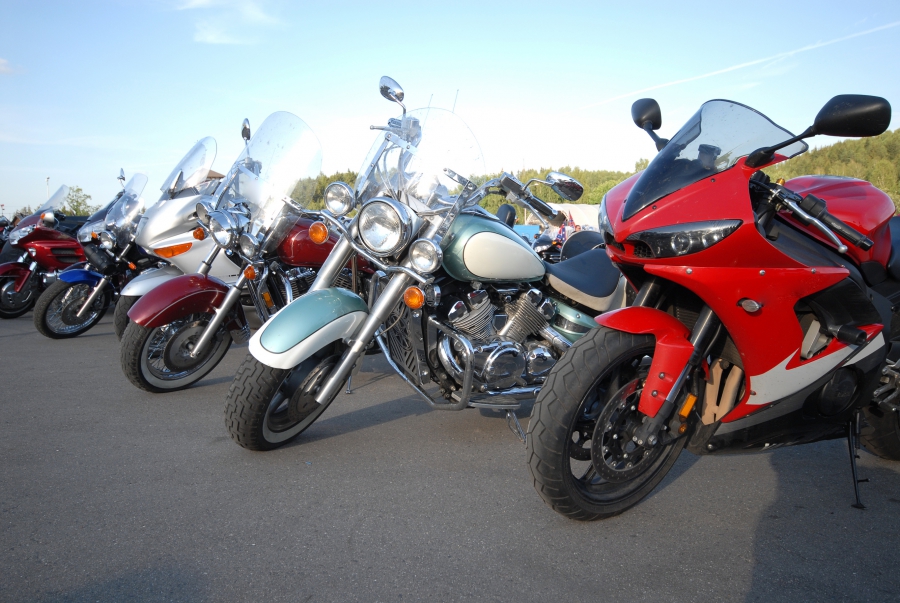 Once you've made sure that everything on your motorcycle is functioning as it should, it's time to hit the pavement! The motorcycle experts at RC Components have come together to create a list of beginner riding habits. Let's take a look at some of these tips below.
Keep Your Heels In
If you ride a sports bike, you've probably noticed that right next to the pegs where you put your feet are little diamond-shaped metal plates. These plates are used to separate your foot from the internal workings of the motorcycle, and they're not just there for show. To utilize these plates, all you have to do is move your foot closer to the bike until your heel pushes up against them. While you may not think this will make a big difference to your ride, it's the best way to keep your feet and legs safe from external elements.
Stay Loose On Top and Tight on the Bottom
Many new motorcycle riders feel the need to tense up when they first start riding their bike. The ideal position for your body when riding a motorcycle is to make sure you're loose on the top, and tight on the bottom. What exactly does this mean? It means that you should squeeze your thighs together so your legs are gripping the tank. Make sure that your ankles are pressing into the bike as well. This will help you stay stable should anything happen when you roll over a speed bump or take a sharp turn.
While it's important to stay strong and stable with the lower half of your body, you'll want to make sure your upper half is loose and limber. Try to avoid making a death grip on the handlebars, as this can impair your overall control of the bike.
Counter Steering
When it comes to turning on your motorcycle, you'll want to learn how to counter steer. This is a method that is used by most single track vehicles to initiate a turn. The idea behind counter steering is that the rider briefly steers counter to the direction they actually wish to travel. For example, if you want to turn left, you would lean to the right and steer left.
As you can see, there are many important things to keep in mind when riding a motorcycle. If your looking to upgrade your current set of wheels or you need bolt-on custom accessories for your bike, browse RC Components impressive online store today!
If you recently purchased a motorcycle, congratulations! While you're probably very excited to take your new ride out for a spin, there are certain things you can do to ensure your first month on the road is safe. In this article, we'll look at some ways to prepare for the road so you can have [...]
At RC Components, we understand how intimidating it can be to shop for your own motorcycle drag wheels. With all of the different tire makes and models available, you could end up purchasing the wrong set of tires for your ride unless you understand some of the basic motorcycle terminology. Our motorcycle experts have come [...]
If you own a motorcycle, there may come a time when you need to replace your motorcycle's exhaust header system due to wear and tear or damage. The exhaust header on your bike is a vital component to your motorcycle's exhaust system and depending on the type of motorcycle you own, there are several things to [...]
High performance drag racing wheels are more than just a pretty accessory for your racing vehicle. Within the tiny beads of your racing tires are decades of technological advancements that have been carefully refined to create a safe and lightweight wheel capable of handling extreme speeds and power. At RC Components, we're proud to offer [...]
Whether you just purchased your first Harley, or you've been cruising around town on a Yamaha bike for years, choosing motorcycle tires for your ride can be a struggle. With the large selection of motorcycle tires available to choose from, it's easy to feel overwhelmed when it comes time to make a purchasing decision. At [...]
If you're motorcycle's wheels and rims have been damaged, or you're interested in upgrading your current set of wheels for a newer version, the holidays are the perfect time to purchase a new set of wheels for your bike. At RC Components, we've been helping motorcycle enthusiasts find the perfect wheels for their ride for [...]
If your brand new to the world of motorcycles and bike parts, purchasing an exhaust header for your two-wheeler can be intimidating. Exhaust headers, also known as pipe headers, are a critical component to every motorcycle exhaust system. Whether you plan on purchasing a new exhaust header to improve the appearance or the performance of [...]
Did you know that there are ways to improve the performance and speed of your motorcycle, without having to pay an arm and a leg for upgrades? At RC Components, we've helped hundreds of motorcycle-lovers amp up their bike performance through our aftermarket and custom wheels. If you're looking for simple ways to enhance your Harley's [...]
If you're new to motorcycling, you may not be familiar with the unique challenges of riding in bad weather. While we believe that a motorcycle is the best form of transportation year-round, many novice riders choose to ride only in fair weather. This may be the responsible choice, but it's not necessarily the best choice. [...]